Working Together
Greetings!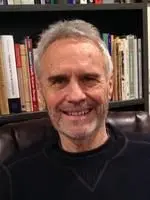 My name is Charles Asher.

I am a certified Jungian psychoanalyst, a member of the C.G. Jung Institute of San Francisco. Trained at the New York Institute for Analytical Psychology, N.Y.C., I also hold a Masters of Divinity degree in theology from Union Theological Seminary, N.Y.C and a Masters degree in psychology from the New School for Social Research, N.Y.C. In addition, I have a doctoral degree in pastoral counseling from Andover Newton Theological Seminary.
I am licensed as a Research Psychoanalyst under the California Medical Board and I am a licensed Marriage Family Therapist.
I have been in private practice for the last 40 plus years. I have served for eighteen years at Pacifica Graduate Institute in Santa Barbara, CA as faculty, chair of departments and provost, training future therapists and academics.
My fee is $250 for a fifty-minute session. If necessary, we can discuss a fee reduction. I do not take insurance.
I draw on my own personal work, my education and formal psychological training for what might be helpful to those who work with me. This will vary from person to person for each session.

In addition to being a Jungian analyst, I am experienced in different approaches that fall under the general rubric of depth psychology and psychodynamic psychotherapy. I work with both conscious and unconscious material including dreams as a source of what the unconscious might be suggesting.
When I was a boy there was a stream near by that flowed down to the bay. Often, I would go there and remove sticks and leaves from the water and happily watch the stream flow freely to its greater possibility.
I now work with others to remove the obstacles in their lives.
There may be anxiety, depression, relational issues, vocational uncertainty, or simply feeling "stuck". We, however, begin with your understanding of what needs attention.
What might be the alternatives to what is not working? What past patterns may still be distorting how life is viewed now? What new possibilities are presenting themselves? How is that happening?
Working together, open to what is yet to be discovered, we can enable life to become better.
You can call me at 805-705-2451 or email me at [email protected].
I wish you well on your life's journey.
Kind regards,

Charles Asher